Deal Abstract
A team of book nerds is teaming up together to usher in digital marketing best tactics for book publishers. Interesting barbell strategy of great timing (digital marketing) and bad timing (legacy publishing is stagnant.) After books, going to podcasts and videos.
Financials (VRB)
|Question|Notes|
|---|---|---|
|1. Fundraising Target? |$1250000|
|2. Fundraised So Far?|$140000|
|3. Pre-Money Valuation?|$4000000|
|4. Previous Year's Annual Revenue |$0|
|5. Previous Year's Annual Net Income (Positive means Profitable, Negative means Burning Cash) |~$-384803|
The 6 Calacanis Characteristics ("Sow Passion, Not easy mediocrity", or S2 P6 N18)
| Criteria | Yes/No |
| --- | --- |
| 1. A startup that is based in SV? | True: Sausilito, CA |
| 2. Has at least 2 founders? | ****: CEO has 6mm shares of 7.8mm shares as shown on cap table |
| 3. Has product in the market? | ****: Piloting with large publishing houses. |
| 4. 6 months of continuous user growth or 6 months of revenue? | ****: Pre-product. |
| 5. Notable investors? | True: Ingram, Chronicle, and Sandusky, but no big SaaS investors, sadly |
| 6. Post-funding, will have 18 months of runway? | True: If they raise $1m that's 3 years of runway. |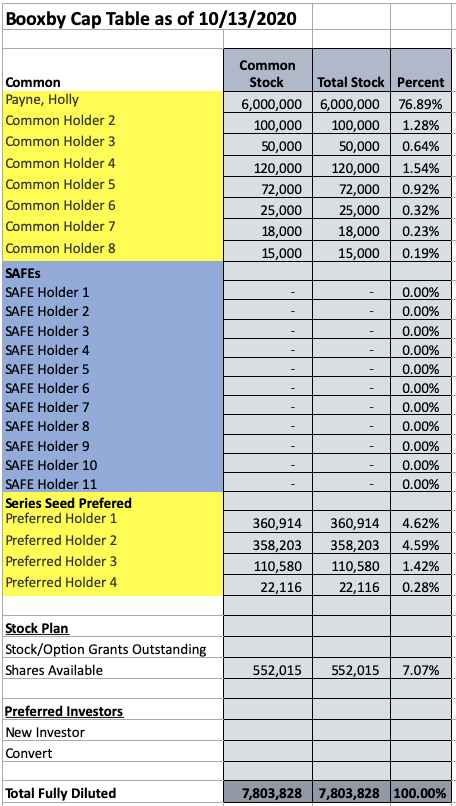 | Question | Score | Notes |
| --- | --- | --- |
| 1. Engineering? | 4 | Benchmarking to Goodreads, which got acquired Amazon and is more reader focused, less writer analytics focused |
| 2. Timing? | 3 | Traditional publishing has been dying/stagnating for a while, hence not a five. But this is a great time to do SaaS and analytics. |
| 3. Monopoly? | 1 | As someone who reads/writes fairly aggressively, I have never heard of Booxby before today. |
| 4. People? | 2 | I like that the team has a lot of publishing experience, but I wish it had more media execs in the core team. That said, Jacob Bronstein will be a critical asset to shore up the business side. |
| 5. Distribution? | 3 | Already got to Hachette and Simon & Schuster, shows can talk to executives at these houses. |
| 6. Durability? | 4 | Data, also, not that hot of a market. |
| 7. Secret? | 4 | Legacy media such as books, somewhat podcast, and eventually video, will have analytics driven on the content. |
What has to go right for the startup to return money on investment:
1. Painkiller vs. Vitamin: Has to increase sales and demonstrate effect for indie publisher and publishing houses;
2. Capitalize the Growth: Traditional publishing has been stagnating forever (who reads anymore?) so Booxby will have to identify where are the growing channels and focus on monetizing those markets first;
3. Strategic Positioning: Will Booxby eventually have to pull a Netflix and prove its value by becoming a publisher to demonstrate the power of their technology? Almost like RFS except RFNs e.g. 'Seeking a novel about young adult economic anxiety with female lead, multicultural elements, and magical realism for coastal readers.'
What the Risks Are
1. Market Risk: This team has a great hold on the problem, but the willingness of large publishers and broke indie writers to pay for their solution will be determined;
2. Transference of Verticals: Is analyzing books, podcast, and video content really so transferrable?;
3. Proprietary Data: This application seems naturally interesting to Amazon (who owns Goodreads) and Google (who has scanned a lot of books.) What is the right positioning of being an analytics platform, using other peoples data, and going into the business of scanning/licensing copyright to texts (which could be the brilliant play with publishers...)
Bonus Muhan's Notes
Extra cool. This company is barbelling between two radically different positions, one in traditional publishing and one in digital marketing.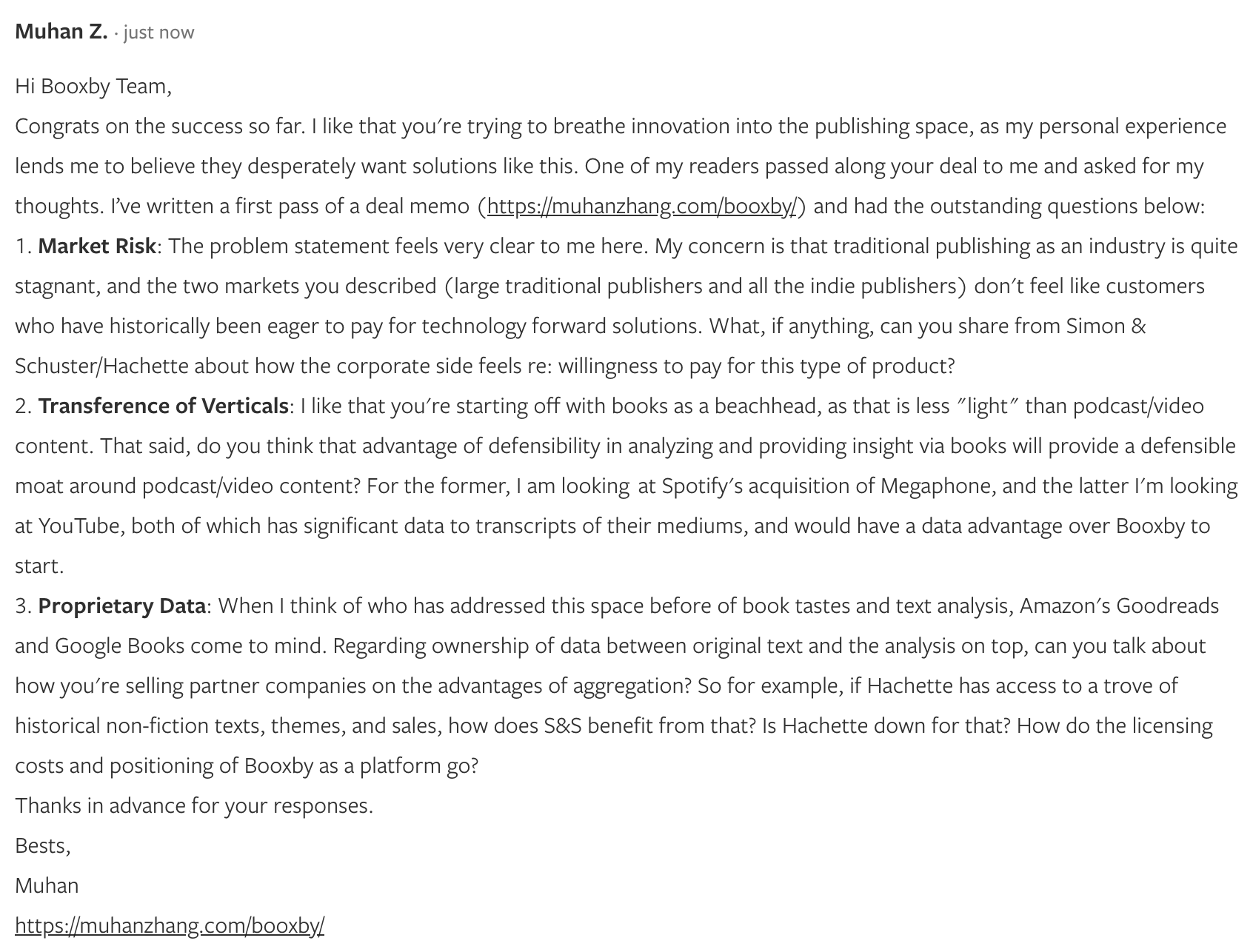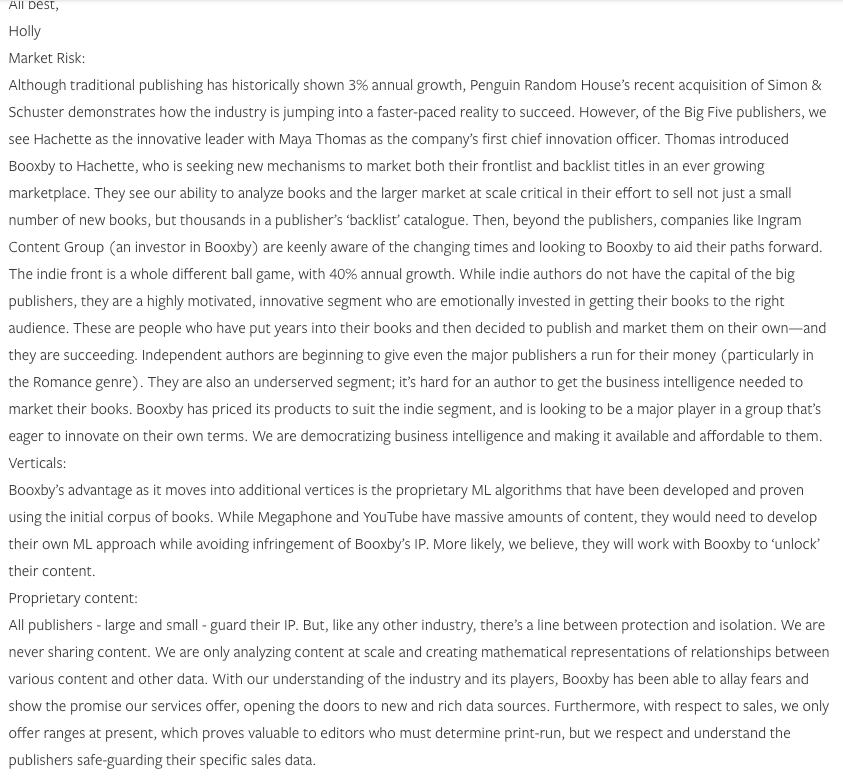 Updates
This is where I'll post updates about the company. This way all my notes from offering to post-offering updates will be on one page.
Review these deal memos every time the startup raises a new round
Test if original thesis still applies
Notice trends in how you think
---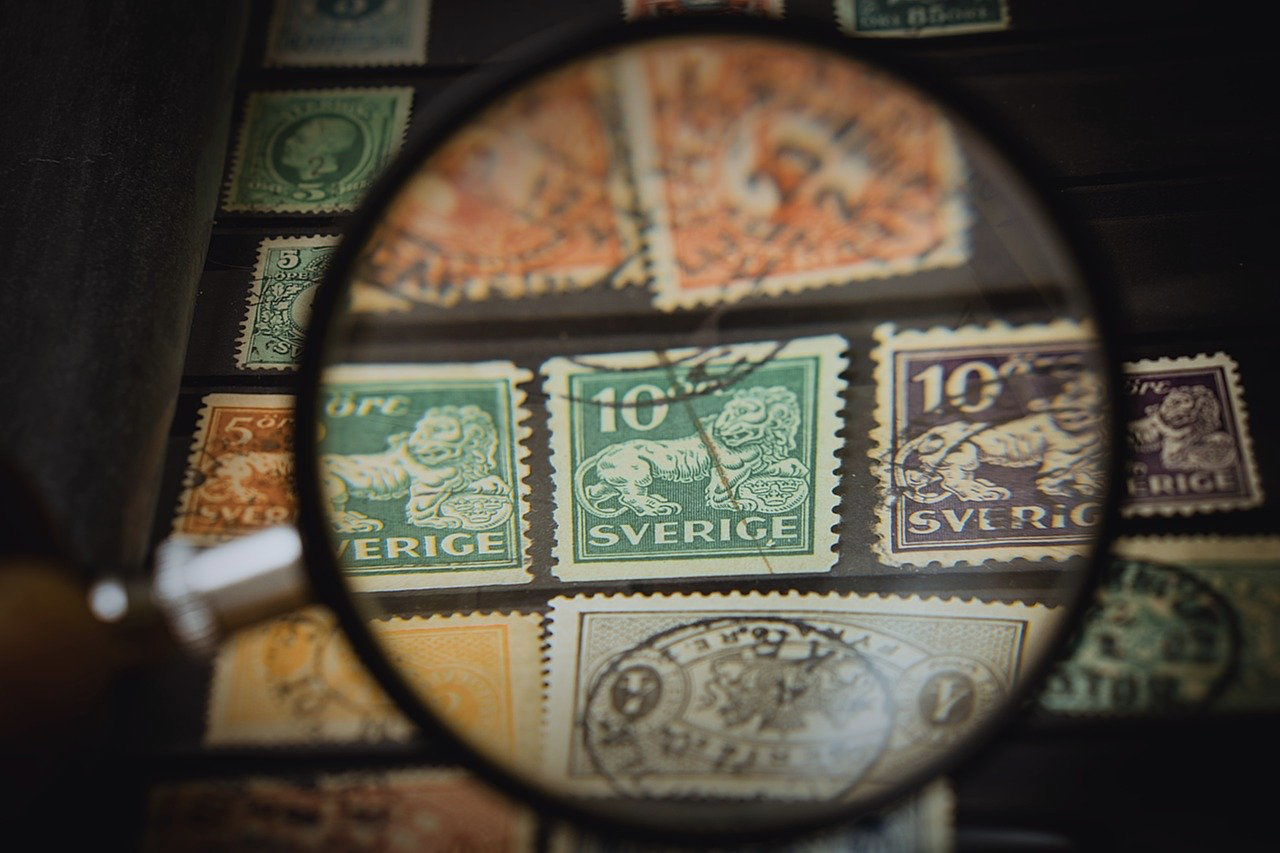 So, did I invest?
Click here
to find out.
Other thoughts, questions, comments, or concerns? Write me at mail@muhanzhang.com and let me know.