Deal Abstract
SaaS for gyms that wants to combine CRM/Peloton content library/and Together.Live/Bright App marketplace/video streaming into one mega SaaS megazord for gyms. Good revenue and valuation, but ambitious tech offerings with uncertainty regarding the right vision for the future of fitness.
Thank you to premium reader Eric for sending me the deal!
Financials (VRB)
|Question|Notes|
|---|---|---|
|1. Fundraising Target? |$50k-$280k|
|2. Fundraised So Far?|$56k|
|3. Pre-Money Valuation?|$5.5m|
|4. Previous Year's Annual Revenue |$392k|
|5. Previous Year's Annual Burn |~$150k|
The 6 Calacanis Characteristics ("Sow Passion, Not easy mediocrity", or S2 P6 N18)
| Criteria | Yes/No |
| --- | --- |
| 1. A startup that is based in SV? | No: Austin, TX |
| 2. Has at least 2 founders? | No: One CEO founder |
| 3. Has product in the market? | Yes |
| 4. 6 months of continuous user growth or 6 months of revenue? | Yes: 2018 revenue to 2019 revenue increased from $131k to $392k. |
| 5. Notable investors? | No: had an equity crowdfunding round before but no names I recognize. |
| 6. Post-funding, will have 18 months of runway? | No: Would just have 18 months if they hit maximum, but at this round with 9 days left, the chances of fundraising 18 months of runway unlikely. |
| Question | Score | Notes |
| --- | --- | --- |
| 1. Engineering? | 3 | CRM and marketplace for gyms and such to transition to digital |
| 2. Timing? | 3 | Good, the pain is definitely real for gyms in COVIDconomy. |
| 3. Monopoly? | 1 | Never heard of Gleantap. Also, compare to Peloton's media library and hardware monopoly, Together.live, and The Bright App, all startups that are trying to lead the digital transformation in the fitness world. |
| 4. People? | 2 | One founder seems fine, but not seeing crazy advantage and relationships with gyms. That said, he has sold to Planet Fitness and some other large chains. |
| 5. Distribution? | 2 | Not bad, not great. |
| 6. Durability? | 3 | Good, B2B is not going to switch CRM systems constantly in the grand scheme of things. |
| 7. Secret? | 2 | Using COVID as the beachhead, Gleantap can become the CRM/marketplace for large chains. |
What has to go right for the startup to return money on investment:
Focus and Timing: This company's got a great deal of ambition about all the things they want to build. Building them in the right order to make sure they're prioritizing painkillers then vitamins, in that order, will be key.
Thesis: The future of fitness is a big canvas right now. Is it all automated gyms? Private coaches Amazon-priming their customers stuff and working out at home? Return to normal in some way?
Relationships: Selling to B2B is all about relationships in the end. CEO will need to scale a sales team in order to get to the revenue he needs to be a unicorn.
What the Risks Are
Vision: Does it make sense building tools for gyms? Are gyms going to die when superstar trainers can do their thing remotely, or join with mega brand? See Together.Live and The Bright App for the former, Peloton for the latter.
Technology: Building the CRM, marketplace, and streaming components for teaching is not light technology. How much of this technology is already built out/how much is left to go?
Competition: Does this company compete with Mindbody and the other CRM-style software for gyms? If so, why wouldn't Mindbody just tack on a marketplace and some software devs to beef up their digital offering?
Bonus Muhan's Notes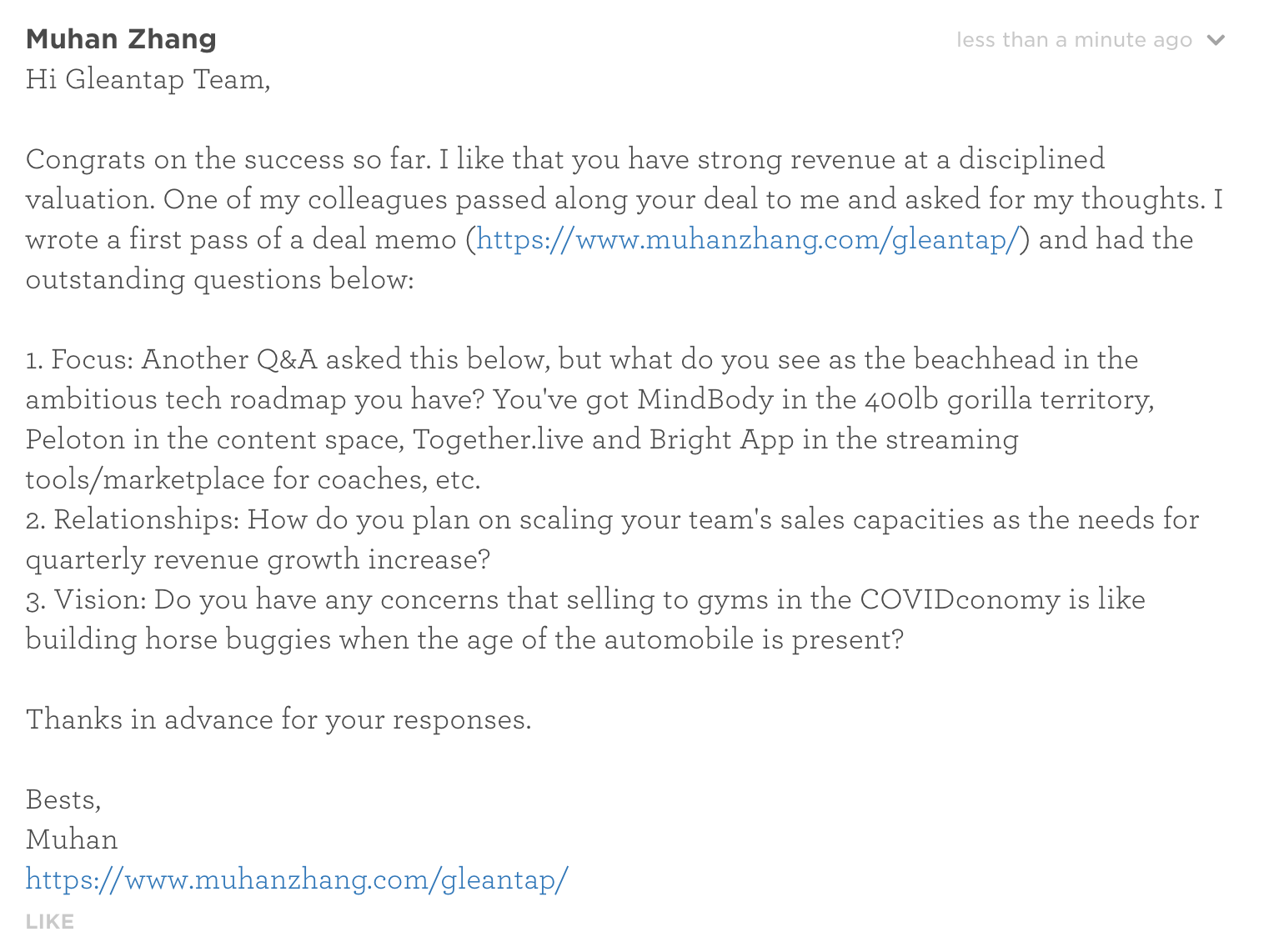 Really interesting space and curious to see how COVID totally wrecks the fitness industry and mints new winners/losers.
Updates
This is where I'll post updates about the company. This way all my notes from offering to post-offering updates will be on one page.
Review these deal memos every time the startup raises a new round
Test if original thesis still applies
Notice trends in how you think
---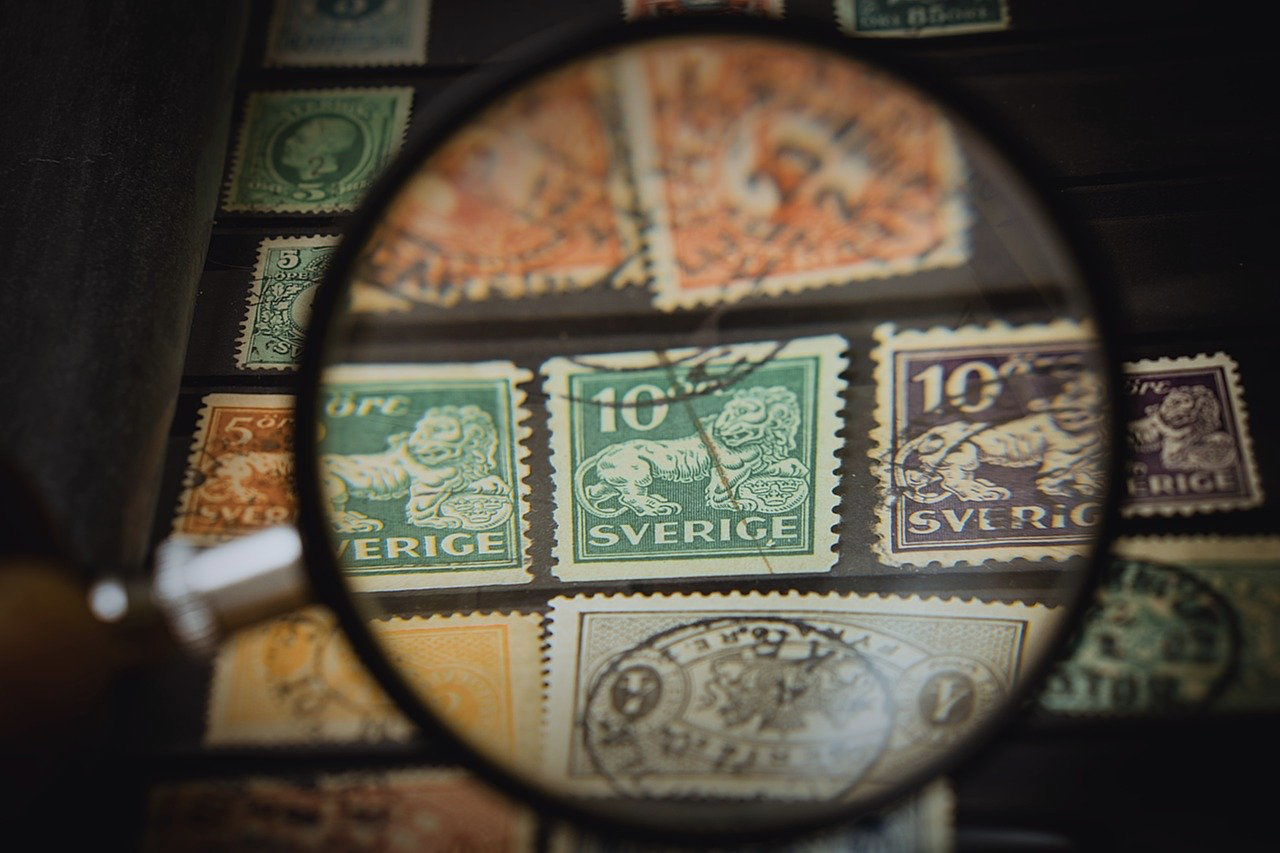 So, did I invest?
Click here
to find out.
Other thoughts, questions, comments, or concerns? Write me at mail@muhanzhang.com and let me know.