KingsCrowd wants to provide the infrastructure for startup investment decision making. This means:
Education: We provide expert editorial content in addition to "how to guides" and tools
Analytics: We offer standardized deal ratings and synthesized data analytics
Research: We combine in-house market research with crowd sourced research
Recommendations: We provide KingsCrowd "Top Deal" picks and access to expert network due diligence
Ultimately, KingsCrowd wants to be the one stop hub that people come to learn about equity crowdfunding opportunities, which would also make it a ripe advertisement platform.
Deal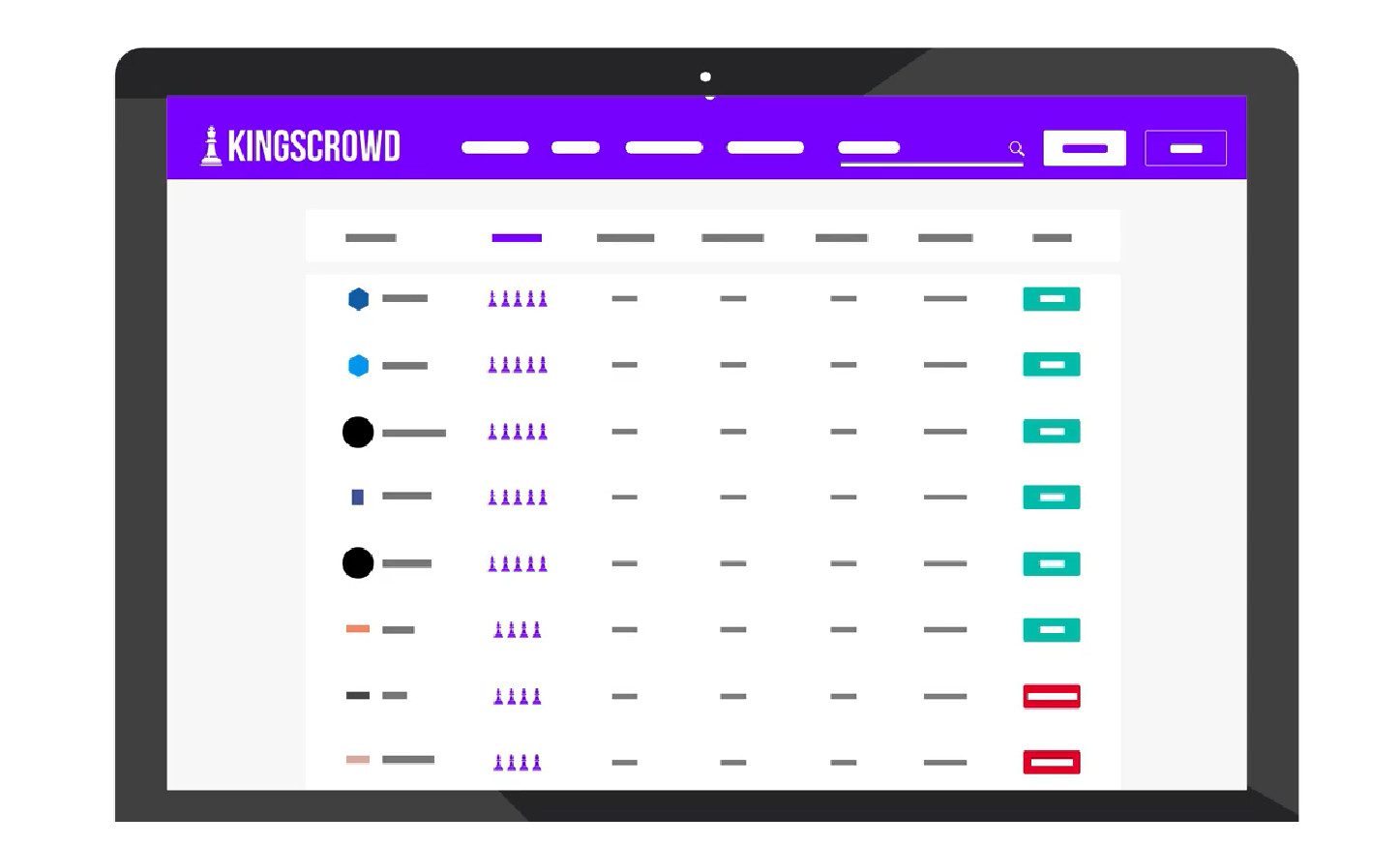 Minimum: $100 "Unit in a LLC" @ $1.12/share, Sept 2018, implied valuation $3.6m valuation.
Decision
Yes.
Why investing?
I know the founder. In addition, Chief Content Officer (Sean O'Reilly) and the advisor (John Fanning) both seem very strong.
I am the customer—I invest in crowd equity opportunities. There are four utilities that KingsCrowd is trying to solve:

Education – I did my own education via Jason Calacanis' Angel, David Rose's Angel Investing, and Peter Thiel's Zero to One.
Research – Google, Crunchbase, going on the company's website.
Analytics – None.
Recommendations – None.

I've invested in similar companies (WhereBy.Us, Inside.com) and could share what I've seen in the media business model.
What the risks are
There is no market for "Venture Capital due diligence" among amateur investors/non-accredited investors. (litmus test: what percentage of SeedInvest/WeFunder/NetCapital investors are writing deal memos?)
Equity crowdfunding platforms vertically integrate, and can provide education, research, analytics and recommendations all on their platform. Betterment does all this for low-fee index funds, which albeit is much more passive. Auto-invest on SeedInvest does something similar, but I opt out of my own decision.
The returns on this investment is not VC but normal media. Here are the next four competitors:
What has to go right for the startup to return money on investment
Demonstrate conversion to investment. No startup will spend money advertising on this platform unless it has demonstrable impact on decision for investment.
Achieve 10% subscription within a year—this is rule of thumb for checking on reader value and quality of the publication.
The market for equity crowdfunding investors is similar to public trading junkies, and there are people who want the Seeking Alpha, MorningStar, and Bloomberg for a very different type of asset class.
Updates
2020-01:
Major 2019 Developments:
1. New users: ~100,000
2. New acquisitions: 1 (Acquired Newchip's Aggregator Platform and users)
3. New Hires: 4 (2 Investment Analyst, CTO, Director of Investments*)
4. New Partnerships: 2 (Rocket Dollar, AltoIRA)
5. New Capital: $400K+
KingsCrowd announces the full-time hire of Ahmad Takatkah as our Director of Investments. This is another major development for KingsCrowd and its investors.
2020-03 Updates (for end of 2019, beginning 2020):
New capital raised: $900,000+
New investors: ~2,000
New acquisitions: Newchip legacy business asset acquisition
New users: ~95,000 (via Newchip asset acquisition)
New product launches: 1 (Analytics tracking)
New full-time team members: 4 (Howard Schneider (CTO), Ahmad Takatkah (Director of Investments), Olivia Strobl (Senior Investment Analyst), Francis Vu (Investment Analyst))
New partnerships: 2 (Rocket Dollar, Alto IRA)
Q2 plans:
Begin conversion of free Newchip users to paid customers
Launch our first-of-its-kind portfolio management tool for the online private markets in beta
Launch our ratings and analytics platform in beta
(Paying customers and investors will be first invites to beta platform)
Build a pipeline of B2B clients (e.g., family office, wealth advisor, RIAs)
Continue to evaluate and execute on strategic asset acquisitions in the pipeline
Explore interest in a KingsCrowd investment fund
Q3/Q4 plans:
Full launch of portfolio management tool
Full launch of ratings and analytics platform
Hire 1-2 additional full-time tech team members
Hire 1-2 B2B sales staff
Begin to invest more heavily in go-to-market/scaling sales
Begin larger seed round of funding
Begin raising KingsCrowd investment fund (pending demand)
2020-05:
Launched KingsCrowd Portfolio. "This feature allows you to visualize all of your startup investments on platforms like Netcapital, SeedInvest, Republic, etc. all in one place. "
Kings Crowd acquires Early Investing. Reports "together, KingsCrowd and Early account for more than 300,000 subscribers with estimated annual revenues in the hundreds of thousands."
2021-11-12: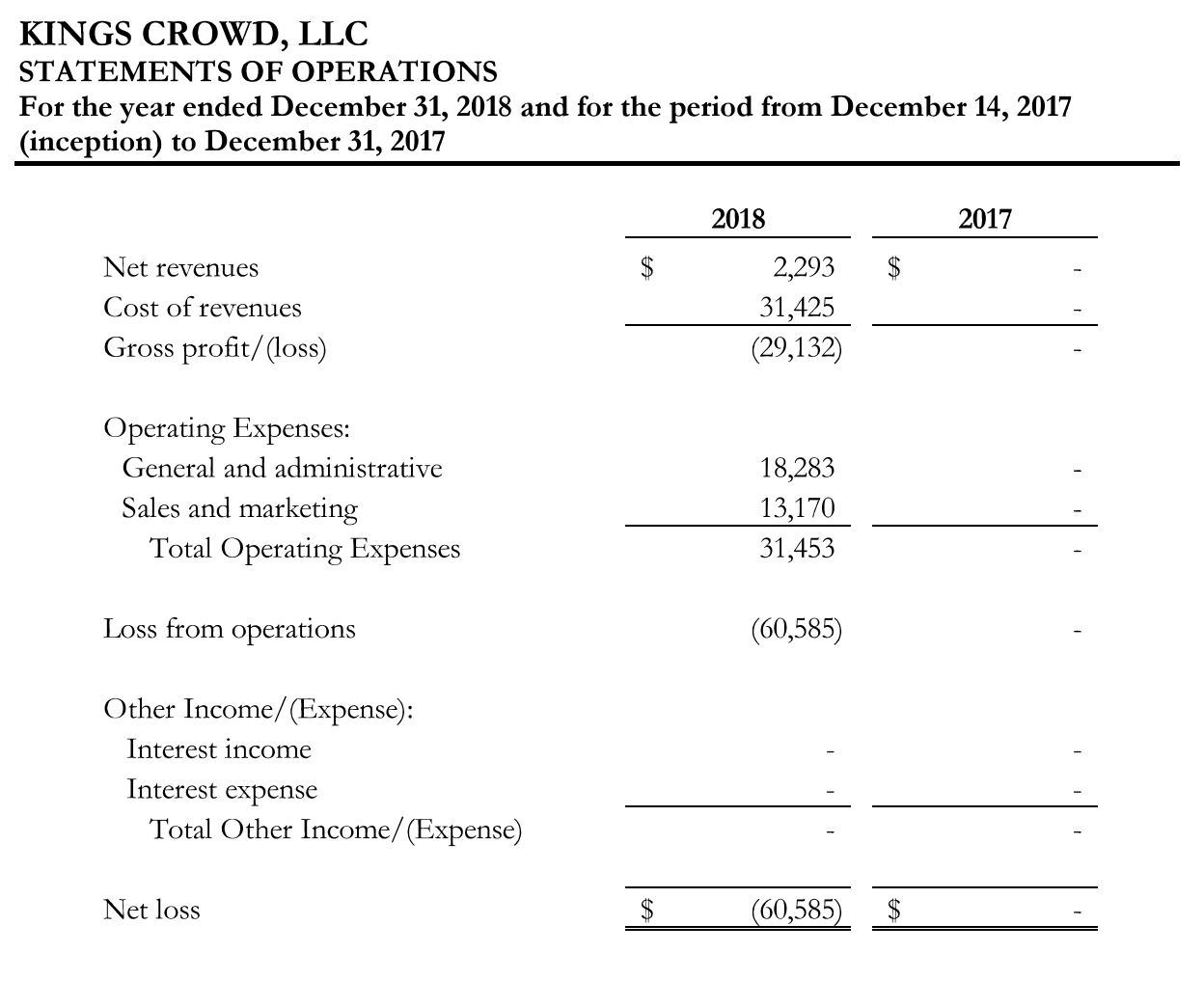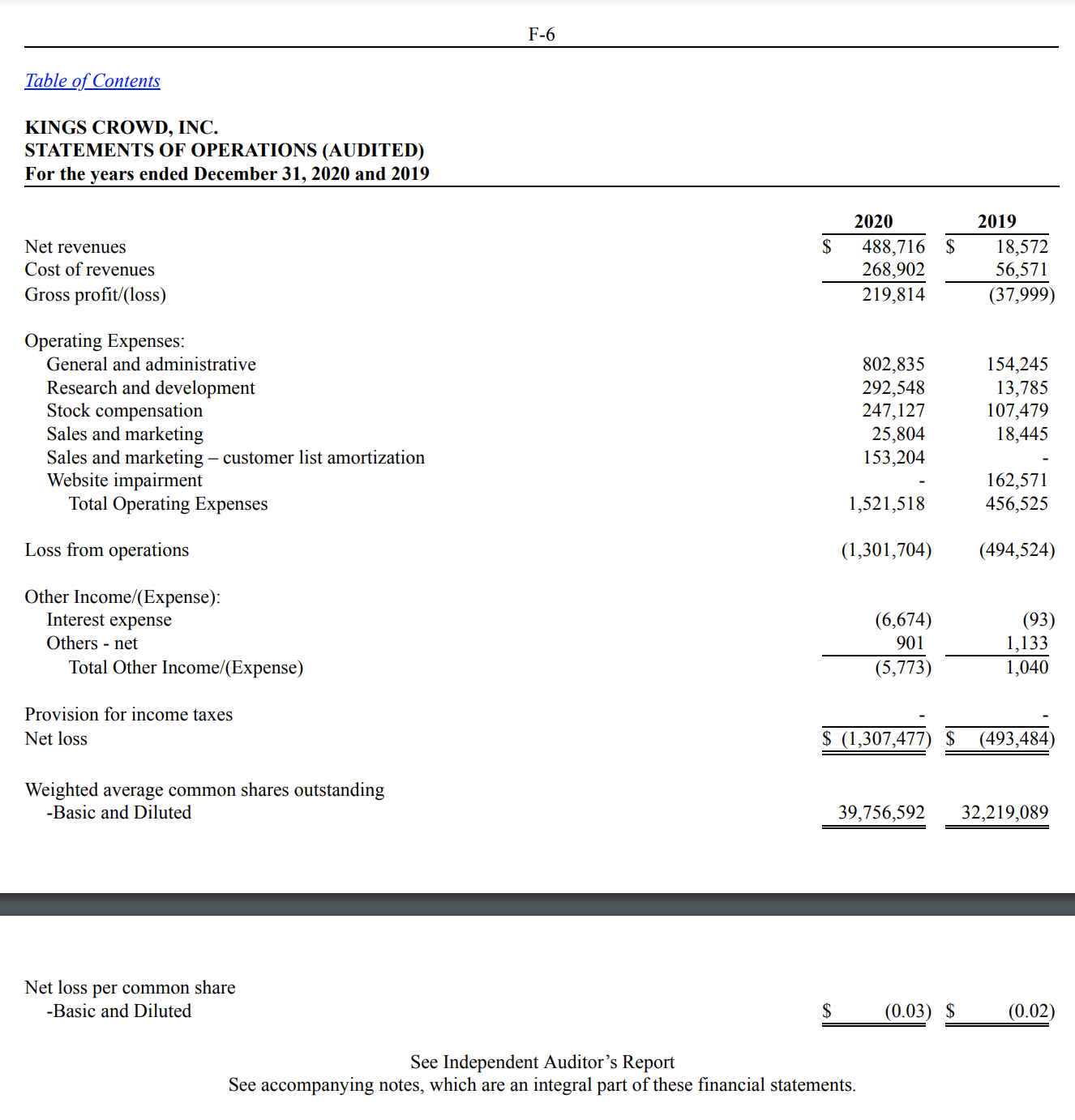 Review these deal memos every time the startup raises a new round
Test if original thesis still applies
Notice trends in how you think