Deal Abstract
https://wefunder.com/myrentberry/about
Building an end-to-end platform for the rental space. Major sketchy things going on with the fundraising rounds and some token offering of $5MM that somehow doesn't affect valuation. That said, otherwise it's basically the dream: has existed for 2 years, 500k+ users, 40+ countries, 4x MAU, doubled team to 30 employees in 2019, 2000 sq ft office, supposedly in San Francisco but I highly suspect remote work and geographic arbitrage. Two-sided marketplace with sub $10MM valuation.
I poked around platform and confirmed its scraping listings, but listings are legit. Tried Zagreb, Croatia; Taipei, Taiwan; Miami, FL, USA.
Kudos to Max K. over at Crowdonomics.co for surfacing this deal to me. In addition, Max notes:
They raised ~5m by selling a crypto, but wound down the legal structure (Ltd) last year. Also worth noting the first $700k of the round got $7m and 30% discount. It launched yesterday with more than that invested (hence why I said "prefunded" this morning). It's in the same legal SAFE tho. Another random note – their Australian investor has the ICO raise listed as $30m on the website. Idk? Not a big deal, just another note. ALSO If you break down revenue ex-ICO, it's something like 93k 2018, 930k 2019, or something. It's in the detailed PDF on the SEC site.

Max K, founder at Crowdonomics.co
Decision
Yes
Why Investing/Passing
Super sketchy deal in many ways, but pros outweigh cons
Great cash balance, revenue, geographic arbitrage
Sketch factor aside, exactly the business I'd like to invest in. That said, we'll see what I learn from this.
The 6 Calacanis Characteristics (91 161 18)
| | |
| --- | --- |
| Check | Pass/Fail |
| 1. A startup that is based in SV | Pass: San Francisco, CA, but I am suspicious. |
| 2. Has at least 2 founders | Pass (3), maybe, at least 3 C-suite. (CEO, CPO, CTO.) |
| 3. Has product in the market | Pass |
| 4. 6 months of continuous user growth or 6 months of revenue. | Pass (Sort Of): Revenue dropped but users continued to grow. 2018 to 2019 revenue growth was 1.78MM to 4.39MM. Cash on Hand (CoH) is 2.53MM. |
| 5. Notable investors? | Fail: None that I recognize. Investors: Steve Burton, Beechwood Ventures. Gary Macbeth, 808 Ventures. |
| 6. Post-funding, will have 18 months of runway | Pass: Appears to have been… profitable? |
The 7 Thiel Questions (ETMPDDS)
The Engineering question:

Interesting: Rental platforms right now are definitely just lead funnels. If you can remove even 10% of showings and make the lease all virtual, that's great.

The Timing question: 

Good: rentals going up, two-sided platforms solid.

The monopoly question: 

Yes: If this is the one platform to handle all aspects of renting, for sure. Even if you scrape listings (like Rentberry scrapes them,) they own the project management side.

The people question: 

Good: Good experience and I like the usage of geographic arbitrage with Ukranian developers and talent.

The distribution question: 

Excellent: Direct to consumer, baby.

The durability question: 

Excellent: If they can build it, maintaining the relationships between landlords and such is good.

*What is the hopeful secret?: 

VR tours, letting tenants bid on rent, and project management is possible by selling to landlords and designing the experience for them.
What has to go right for the startup to return money on investment:
More securing and streamlining of the project management side of things.
Need to continue driving value to landlords so they force more tenants to apply via Rentberry.
Drive unique value to tenants, not just pit them against each other, to continue building two sided marketplace and incentivize tenants to apply here.
What the Risks Are
Very high sketch factor. What's with this ICO? Why are you valued at $9MM if you already raised $10MM?
If landlords use this platform because it lets tenants bid on rents… won't tenants go away? That's cannibalizing one side of the marketplace for another. Also, won't tenants just go to the original listing site?
Focusing on nice-to-have features like VR tours instead of must-haves like how to provide value to tenants as well, instead of cannibalizing tenants for landlords.
Financials (References)
Total Amount Raised: US $993k this round
Total Round Size: US $1MM
Raise Description: Seed (Third Raise Though)
Minimum Investment: US $100 per investor
Security Type: Crowd Note
Valuation Cap: US $9,000,000
Offering Type: Side by Side Offering
Updates
Newscoop: Rentberry, the online platform for long-term rental housing in the U.S., announced the successful closure of their second round of financing. The startup attracted $2.8 million, bringing to $4 million the total amount of capital raised in the Ukrainian startup. The round was led by Zing Capital and supported by Nelson Brothers Property Management, Hopewell Development, 808 Ventures, Beachwood Ventures, Jade Value and others. According to co-founder and CPO Lilia Ostapchuk, investors from 11 countries and 19 American states participated in the round. Ukrainians Alexey Lyubinsky, Lilia Ostapchuk and Arsen Kostenko founded the startup in 2015. While the founders themselves live in San Francisco, the startup has 23 employees in Kiev.
Gizmodo: Rent bidding platform Rentberry might be the platform of your nightmares.
12/20/21: Raising another round at a $25mm valuation, revenue increased from $7615 to $30878.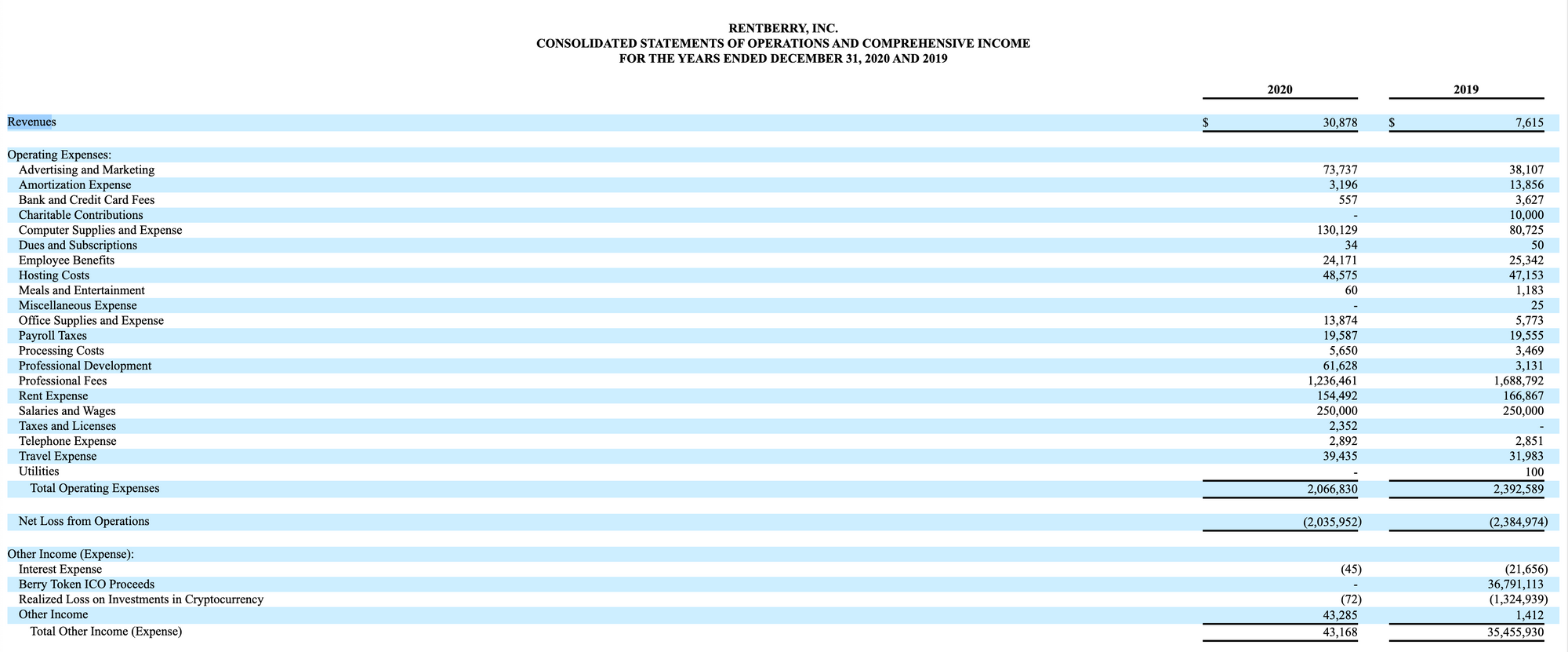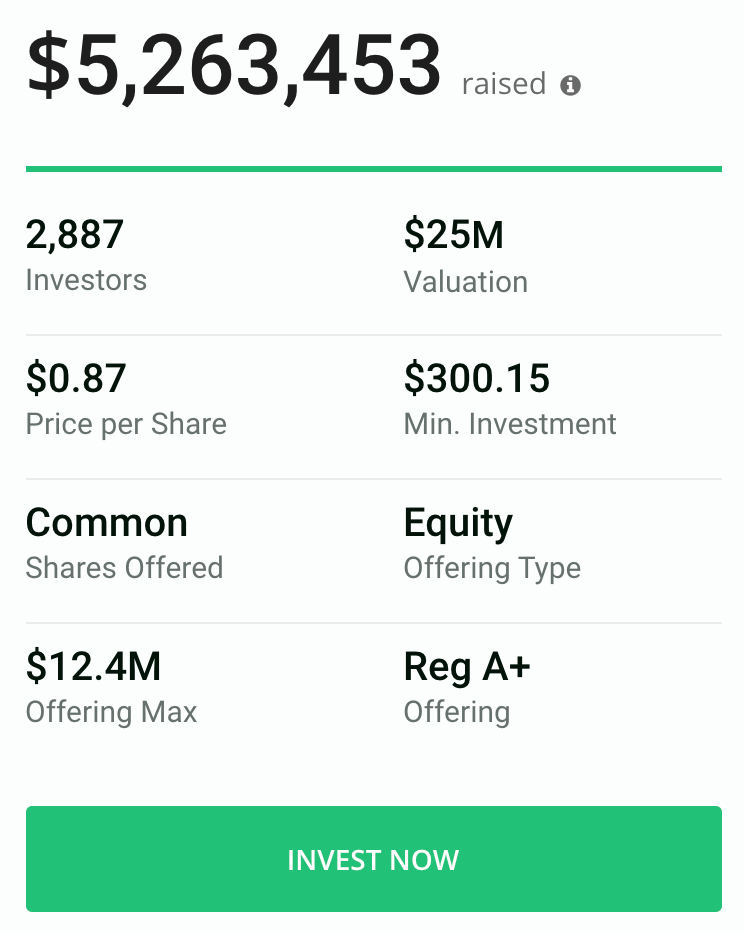 Review these deal memos every time the startup raises a new round
Test if original thesis still applies
Notice trends in how you think