Deal Abstract
Alter ego to RAD wants to empower the prosumer video content producers to make testimonial videos and other content for companies. Insane revenue for valuation, actually hitting the rule-of-thumb 10x annual revenue benchmark. Run by a pair of brothers with the iron strength from the USSR. Invites you to ponder how the future of video content will be built.
Bonus: cmd + f "BONUS" to see the bonus Q&A summary I wrote after peppering the CEO with questions from my marketing experts Zaryn and Rafael.
The 6 Calacanis Characteristics ("Sow Passion, Not easy mediocrity", or S2 P6 N18)
| Criteria | Yes/No |
| --- | --- |
| 1. A startup that is based in SV? | No: New York, NY |
| 2. Has at least 2 founders? | Yes: Brothers |
| 3. Has product in the market? | Yes |
| 4. 6 months of continuous user growth or 6 months of revenue? | Yes: 2018 revenue to 2019 revenue increased from $865k to $1465k. |
| 5. Notable investors? | No: no one that I recognize. |
| 6. Post-funding, will have 18 months of runway? | No: 2019 burn was $176k, at time of writing has fundraised $76k and is shooting for $1070k as a round. At present only has half a year of runway, but they're trying to raise more and they have 30+ days. That said, also raising institutional money side-by-side for the equity crowdfunding round. |
| Question | Score | Notes |
| --- | --- | --- |
| 1. Engineering? | 4 | Is the future one-size-fits-all or hundred-flowers-bloom? In other words, is the future RAD or Insense? Why not bet on both? |
| 2. Timing? | 4 | Very good. Authenticity has a premium (like this blog,) and the ability for indie creators to create and publish is the story of the 21st century. |
| 3. Monopoly? | 3 | Not sure whether the thesis is right, but if it is, I can definitely see the market scaling. Revenue implies that they have a very strong start in a small market. |
| 4. People? | 4 | Two co-founders are brothers. |
| 5. Distribution? | 3 | Internet distribution all day every day. |
| 6. Durability? | 3 | Brand loyalty in fair marketplace management as agencies go to one place as do the creators. |
| 7. Secret? | 4 | The future is going to be more decentralized authentic content. This checks out. The secret is that letting a hundred flowers blossom is more profitable and effective than top-down paid content marketing like Rad. |
What has to go right for the startup to return money on investment:
Thesis Must Be Right: This is the funnest part of being a VC, contemplating how the future is built then taking a position on a team to build that. How does Insense and RAD and all the other companies play with each other? Is this ultimately like Airbnb and VRBO? Or Uber and Lyft?
Operationalize Processing of High Converting Content: This business needs to be in the marketplace, not the agency space, which means as it grows transactions its unit costs of curation need to stay disciplined.
Beat the Big Boys and Gain Legitimacy: Very much like Airbnb now eats the lunch of big hotel brands, Insense needs to start off as inferior product, then increasingly have more trust with the community of high influence content creators which ultimately drive more quality traffic (e.g. Tim Ferriss/Joe Rogan podcast vs. NYT/Ezra Klein podcast.)
What the Risks Are
Dancing on the Razor's Edge: The business will at times look like a video agency (managing the idiosyncrasies of content producers,) and a service provider (escrow, payments, lead generation.) If it leans into either of those too strongly, the business faces default-dead risk either internally or externally, respectively.
Platform Risk: To the company's own point "The old ways of advertising are out. With over one billion people watching stories on Instagram, Snapchat, and TikTok, users are engaging with short video content more than ever." will Adsense be able to beat these companies at galvanizing super users? To put it bluntly, is TikTok and TikTok's creators fund going to beat Insense or can Insense garner enough platform independent creators to stay relevant?
The Industry is Sketchy: MarTech still makes me uncomfortable. But conceptually, this business makes sense to me.
Financials (VRB)
|Question|Notes|
|---|---|---|
|1. Fundraising Target? |$25k-$1070k|
|2. Fundraised So Far?|$100k|
|3. Pre-Money Valuation?|$10m|
|4. Previous Year's Annual Revenue |$1.465m|
|5. Previous Year's Annual Burn |$177k|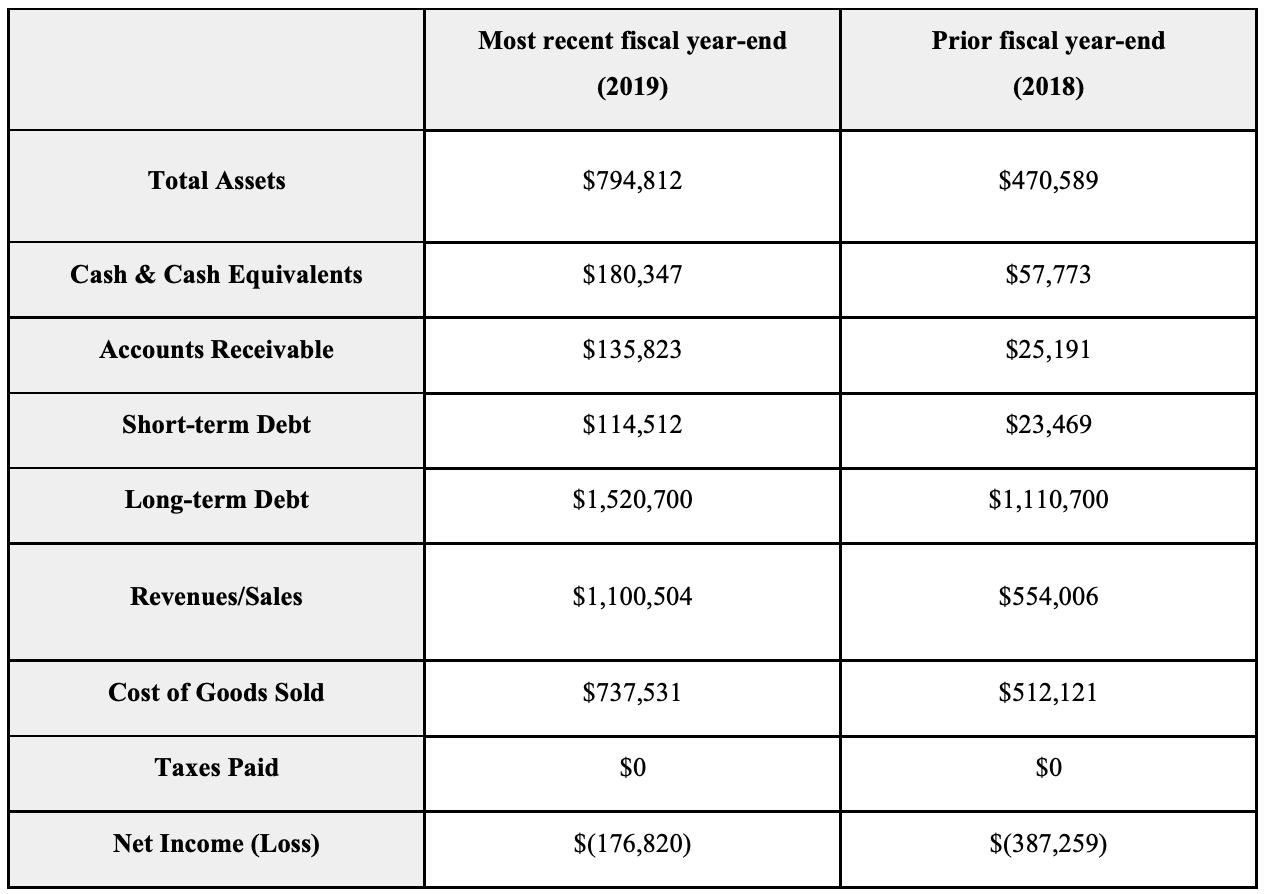 MUHAN'S BONUS NOTES: Question and Answer with Danil Saliukov, CEO & Founder of Insense:
Pricing
Q: What is a sample package for an Insense customer?
DS: There is no sample package for an Insense customer, but we do know that the median price per transaction is $238. We track all our numbers obsessively, so I knew the number off the top of my head.
Q: Does Insense charge both the membership fee and a cut of the deal?
DS: Yes. We receive revenue both on the subscription ($299/mth-$549/mth), and also charge an additional 15-30% of every deal dollar amount (though normally it's typically 15% on top) Activation fee is $149 for basic per campaign basis for cheapest option. (Pricing page.)
Q: What can someone buy for the median deal amount?
DS: It's reasonable for a client to buy 1-10 versions of one video from 1 creator, 15 seconds, for $238. Clients prefer working because of the flexibility without packages, as packages can start to focus excessively on production (e.g. we can deliver 50 videos for $XXX.) On our platform, they can either want 5 pieces of content from 200 creators, or request all those pieces for one creator, etc.
Customer
Q: What types of brands are Insense focusing on?
DS: Three primary verticals: CPG, mid-sized e-commerce (spending $100k-$1m ad spend monthly,) digital apps. E-commerce is the ideal client. CPG more complicated (longer sales.)
Q: What is the role/title that Insense is trying to convert?
DS: Decision maker: CMO, paid social director, sometimes it could be Creative Director, or Influencer Marketing Director.
Q: What is the size of a standard organization that you'd be trying to sell to?
DS: For e-commerce, they're spending $100k-$1m in ad spending monthly. Generally, the organization has to be large enough to not only have a dedicated marketing person, but even some hierarchy with directors and vice presidents. At minimum, they're spending $50k/year, $5k/mth for advertising, with less than 100 team members.
Q: How does a customer use the content?
DS: Customers can directly publish the content to Snapchat, Facebook, Instagram, and Tik Tok. This is ideal for us as we can then track the performance of the content and that feeds our algorithms knowledge of what types of content work best where. Of course, customers can also download the video content to publish wherever they like.
Business Model
Q: My marketing experts Zaryn Sidhu and Rafael Angarita were on a call reviewing your call, and they likened Insense to a cheaper vision of SocialNative. Do you agree with this comparison?
DS: Sure—Social Native are doing great, backed by great investors, with lots of money. Their approach is different, all in for enterprise, servicing them as a digital agency, not a pure SaaS experience. In addition, their computer vision/machine learning approach is different and may go deeper into visual components, while Insense looks both at video data and emphasizes eventual outcome and impact. SN is about identifying influencer, leveraging computer vision less than performance of the content. Another comparison we get frequently is Vidmob which is quite similar to Insense, connecting content and creative. Again, they are focusing on enterprise, and have fundraised $45m. That said, a big part of their secret sauce is in the insights and consultancy, with lots of analysts doing research. We have driven all our revenue and traction with one full-time employee, this is a SaaS play.
Addendum Note: "one full-time employee: 1) when we filed to the SEC in April I was the only payroll-based employee though we hired biz dev manager in May. So we are two here; 2) also, we have 25 full-time employees but they are not based in the US, according to the rules of SEC, we cannot count them in the field of employees. You can just mention that we are two in NYC office and have over 20 people based in Moscow"
Q: Do Insense customers pay for content or outcome?
DS: They pay for content, but through the data our platform collects from creative brief, to creator matching, to deployment on advertising platform, we are aiming to have more intelligence about what types of content has the best outcome.
Q: What is the normal turnaround time for an Insense customer?
DS: Normal turnaround time for content production: 5-7 business days. Could be delivered within a day, but depends on the ask such as app installation.
Q: Why do clients go with Insense as opposed to other agencies?
DS: Production studios are our main competitors. We are cheaper, faster, and our content informed by the analytics our platform calculates, is already delivering better performance. We have case studies and client testimonials to back this up. We have targeting on our software platform via machine learning. Ultimately, clients come to us for better performance as a result of our platform's analysis.
Network of Creators e.g. Influencers
Q: What are influencers expecting in terms of compensation?
DS: Influencers generally take $210 per deal, generally. They typically have 50k to X00k followers. We've found this is the perfect spot for fit. We also have a few influencers or celebrities with a million of followers, but we're not focusing on them. Of note, we focus more on the content, not on the following. This is why we prefer to call them a network of creators, as the majority of them are influencers, but some of them have no followings (10k followers.) It's about whether they can produce high-performing content for ads.
Q: Why did you suppose to go equity crowdfunding?
DS: Republic is actually our client, so when they saw our business and model, they suggested opening up equity options for freelancers/creators to also be investors. The equity crowdfunding experience has really been positive, as we've even found a few clients from Republic. The level of influence and curiosity at this small community is surprising.
Q: Can you tell me how your machine learning works? How many resources do you have to building/maintaining the model?
DS: For now, we use natural image qualities to predict the likelihood of engagement with video question. Qualities like sharpness, queues, color, saturation, and number of faces are the factors we're using. This may expand, but even using just this type of objective score (much like you have an objective criteria for vetting investments,) means we can both predict better results, and also eventually, start to coach content creators to make better content.
Note: Although the investment decision is Muhan's alone, these Q&A's were sent for confirmation and clarity to Danil and Insense for accuracy and correction.
Updates
This is where I'll post updates about the company. This way all my notes from offering to post-offering updates will be on one page.
Review these deal memos every time the startup raises a new round
Test if original thesis still applies
Notice trends in how you think
---
So, did I invest?
Click here
to find out.
Other thoughts, questions, comments, or concerns? Write me at mail@muhanzhang.com and let me know.