Deal Abstract
https://www.seedinvest.com/virtuix/series.a.2
Hardware/game studio combo wants to become the Peloton/Ready Player One for real. Already has shipped over 4000 units to 500 venues in 45 countries. Doubled revenues in the last year, with over $10m worth of product sold.
The 6 Calacanis Characteristics ("Sow Passion, Not easy mediocrity", or S2 P6 N18)
| Criteria | Yes/No |
| --- | --- |
| 1. A startup that is based in SV? | No: Austin, TX |
| 2. Has at least 2 founders? | No: Looks like just the CEO has 5.5m shares on teh cap table |
| 3. Has product in the market? | Yes |
| 4. 6 months of continuous user growth or 6 months of revenue? | Yes: $3.8m vs. $1.6m |
| 5. Notable investors? | Yes: Mark Cuban, Capital Factory (same as Hidrent,) with twenty other VC's. Notably, no big VC's that I know. |
| 6. Post-funding, will have 18 months of runway? | Yes:Targeting $10mm, $3.5mm burn in 2020 (incomplete year,) which is 34 months of runway. |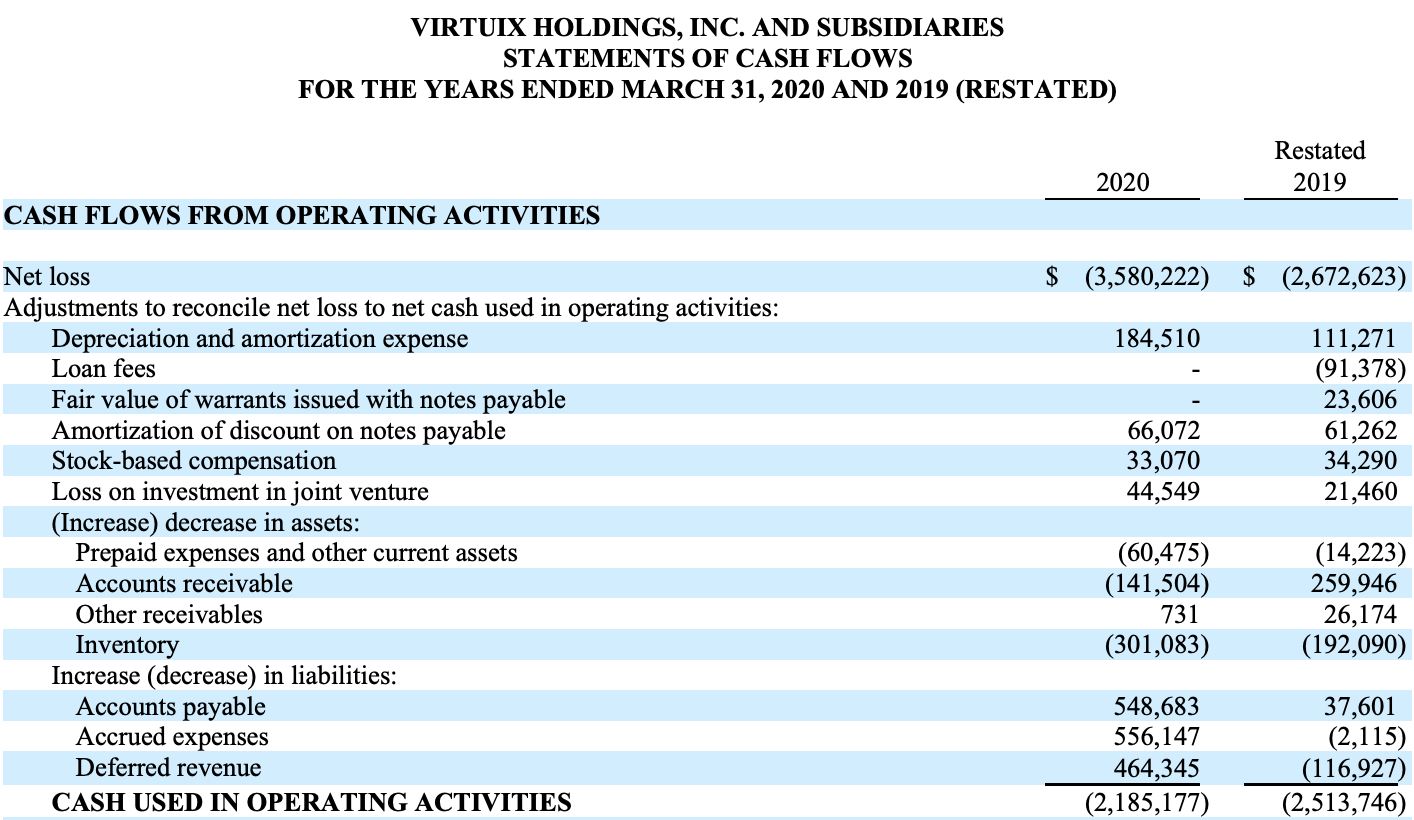 | Question | Score | Notes |
| --- | --- | --- |
| 1. Engineering? | 5 | Seems phenomenal |
| 2. Timing? | 5 | Lots of people staying in doors for COVID |
| 3. Monopoly? | 5 | Not sure I know any other product in the immersive home VR space |
| 4. People? | 3 | Good that CEO isn't just a product guy, but neither leadership has experience in selling consumer electronics, game studio development, and not too much said about other teammates. |
| 5. Distribution? | 4 | 1 million email list! Direct to consumer woohoo. |
| 6. Durability? | 2 | Thinking of the other VR headsets I know, e.g. Facebook Oculus, Microsoft HoloLens, etc. Uncertain which part of this company is their unfair advantage. Steam? |
| 7. Secret? | 4 | This company has solid progress with selling hardware B2B, but jury's out on whether they can Nintendo that into home console system. |
What has to go right for the startup to return money on investment:
Bring Product to Consumer Market: Not only in consumer branding (which the company has done a good job with the 1m email subscribers, but also customer service, assembly, and even partnering with retail companies.
Dominate Three Businesses: The economics of a hardware company, game studio, and online store are very different, though they are tightly interwoven. Pure hardware plays would be "PC Master Race" people who pay top dollar for premium hardware, but those graphic card companies/CPU providers get none of the money for powering a game. Pure game studio would be something like Bethesda Studios, which makes the popular Elder Scrolls series. Then you have the distribution companies like Steam, Origin, GOG, etc. Each tries to enter each other businesses, but no one has been able to win on all three yet.
Get Really Good at Porting Games: If this company can't take advantage of the catalog of excellent games that would benefit from Omni, then it's missing out on what people already want. Not sure how this would work, but think teaming up with Riot Games for Overwatch running, Elder Scrolls exploration, etc. Maybe some kind of open studio integration with Steam games (No Man's Sky?)
What the Risks Are
Hardware Is Very Hard: My thesis was on Google Glass was published in 2014. Chances are, you still don't own one. Also add Snapchat's Spectacles to the list.
Game Network: What would a big game studio gain from letting Virtuix multihome and play for all the brands? If anything, a large studio might want exclusive rights, or at least some kind of alliance/association.
Capital Risk: Making games is like making movies, super expensive. Hardware businesses have been brutal forever. And running online stores now has easily over half a dozen competitors. All this costs a lot of money.
Muhan's Bonus Notes
Crazy cool... though definitely high risk with high reward.
Update from my friend who has more expertise in gaming than me:
"Also just for clarity, xbox game pass is distinctly not like steam. Game pass is a subscription service that gives access to a number of titles. Steam is a game marketplace to buy games to own (as much as one can own digital content). I'm not extremely familiar with Apple arcade, Amazon games, or stadia, but I believe only epic game store is a decent comparison. Xbox has a marketplace, it has nothing to do with gamepass. Xbox does not have a subscription service that lets you play one game a month, nor does Early Access. PSN plus gives access to online play, as well as two games a month to play as long as you are a member. Steam and epic game store are very close in what they do, which is provide a PC gaming marketplace. Game pass and psn plus are not the same. It doesn't detract much from your point, but the comparison I tenuous to nonexistent and I don't want randos to be like 'wow this shit head don't know nuthin about gaming I have no reason to trust him in regards to a gaming company.'
Thank you for reducing the likelihood of my fate as an untrustworthy shit head  :pray
Financials (VRB)
|Question|Notes|
|---|---|---|
|1. Fundraising target? |$10m|
|2. Pre-Money Valuation?|$65m|
|3. Annual Revenue |$988k|
|4. Annual Burn |$3.57m|
Updates
This is where I'll post updates about the company. This way all my notes from offering to post-offering updates will be on one page.
Review these deal memos every time the startup raises a new round
Test if original thesis still applies
Notice trends in how you think
---