Deal Abstract
Tech enabled service provider that has software, hardware, and data science to help oil, gas, and telco do asset maintenance
Financials (VRB)
|Question|Notes|
|---|---|---|
|1. Fundraising Target? |$2500000|
|2. Fundraised So Far?|$182500|
|3. Pre-Money Valuation?|$8000000|
|4. Previous Year's Annual Revenue |$363681|
|5. Previous Year's Annual Burn |~$-318592|
The 6 Calacanis Characteristics ("Sow Passion, Not easy mediocrity", or S2 P6 N18)
| Criteria | Yes/No |
| --- | --- |
| 1. A startup that is based in SV? | ****: Pflugerville, Texas |
| 2. Has at least 2 founders? | True: Two |
| 3. Has product in the market? | True: |
| 4. 6 months of continuous user growth or 6 months of revenue? | True: 2018 rev from 106k to 150k in 2019, and also: '2020 YTD revenue is over $750K (as of October 2020), representing a 897% increase in annual revenue since commercialization began in 2017 (unaudited)' |
| 5. Notable investors? | ****: 'Optelos was accepted into Capital Factory's 2019 VIP Accelerator program and is backed by key investor AustinLee Ventures', I think Capital Factory also backed Hidrent. |
| 6. Post-funding, will have 18 months of runway? | True: They'll have 6 years of runway if they raise 2m lol |
| Question | Score | Notes |
| --- | --- | --- |
| 1. Engineering? | 4 | Instead of having only text database, using AI to convert visual data into text data that is then querable. |
| 2. Timing? | 3 | Great time for B2B SaaS, always, but curious whether ML/AI is right time. |
| 3. Monopoly? | 2 | I'm not too familiar with visual asset maintenance but given that this is a deep niche I'm going to assume yes. |
| 4. People? | 3 | Very sparse info on team, but honestly, team looks like bunch of Texan dudes working for old industries like oil and gas, so checks out. |
| 5. Distribution? | 3 | Uncertain, but that revenue though. |
| 6. Durability? | 4 | Insanely defensible, but hard to build. |
| 7. Secret? | 3 | There is enough low hanging fruit in visual inspection information to use image processing and turn a lot of visual information into queryable data. |
What has to go right for the startup to return money on investment:
1. Secret Must Be Right: Imagine a world where you can search your photos with something like 'show me all photos where grandma is smiling.' Optelos has to be able to take every request like this, in the B2B space, and consistently make 80% of the previously image queries, now text queryable; 2. Balance Service Provider and SaaS: Impressive product video, needs to make sure this company doesn't get tasked to do too much manual work and expand on the SaaS play; 3. Hardware/Software Strategy: I recently just watched True Footage's product demo using the new iPhone's LiDar, and that was incredibly impressive. Optelos will need to stay ahead not only of SaaS visualization but also continue to maintain good integrations with all the sensor data its analysis fundamentally relies on.
What the Risks Are
1. Scale: I wonder how replicable it is to do maintenance for telco vs gas vs a quarry, for example, 2. Liability: If BigCos are going to be relying on this software, Optelos has to make sure it can back up the analysis and maintenance checks that it does. If it doesn't, BigCos may just do redundant work to verify all equipment is good. 3. Complexity and Focus: this company is a tech-enabled service provider and has to maintain a SaaS platform, drones and technicians who can get the models, and data scientists to make sure all the data is telling a cohesive story. This seems capital intensive and will need the executives to balance giving and capturing value.
Bonus Muhan's Notes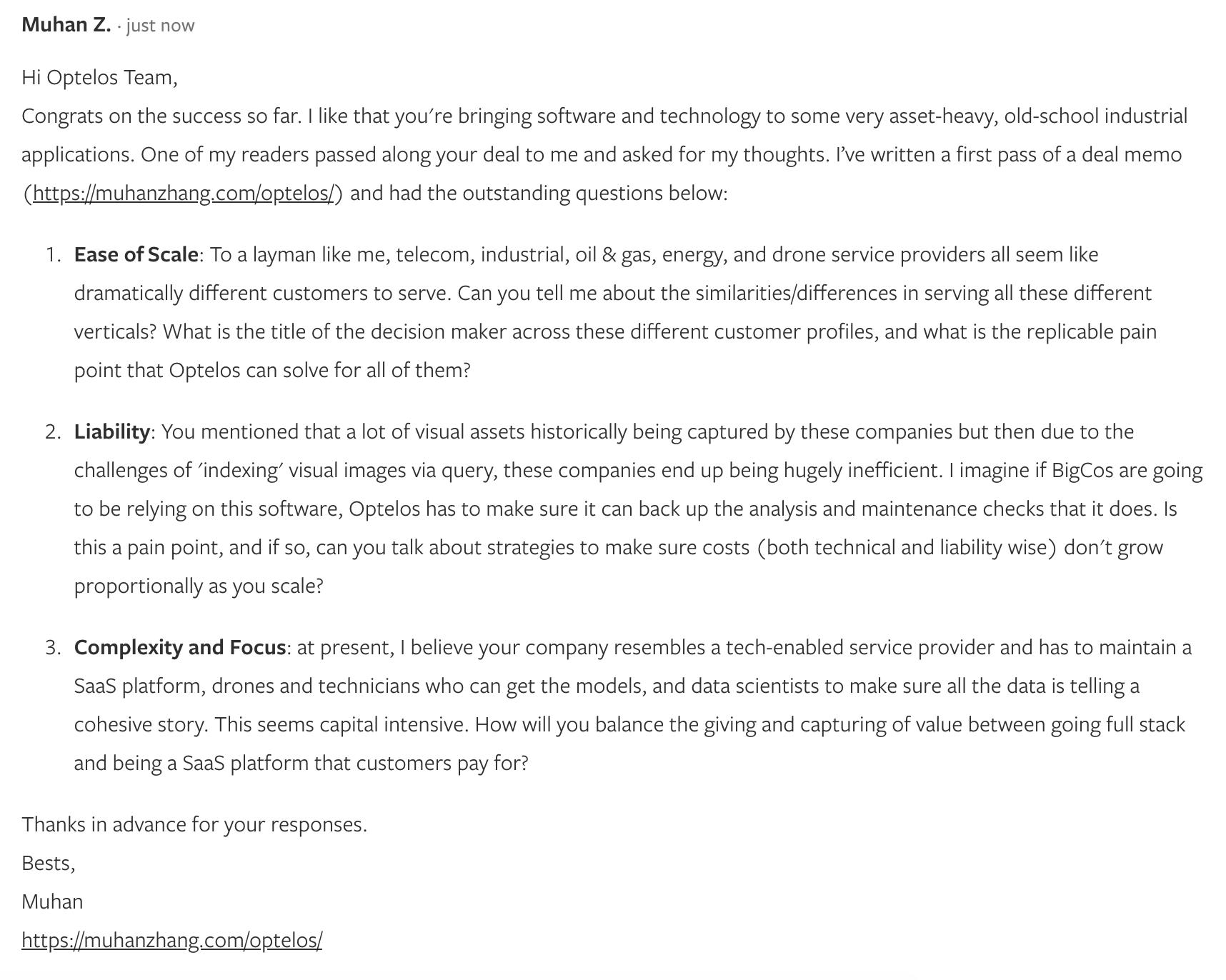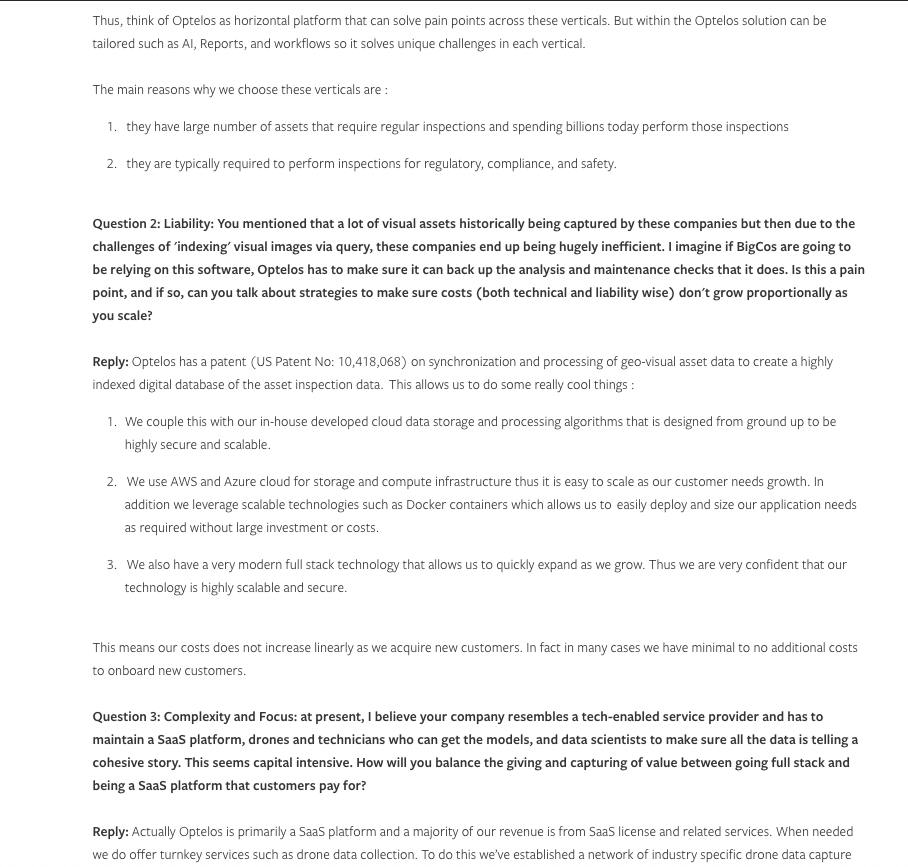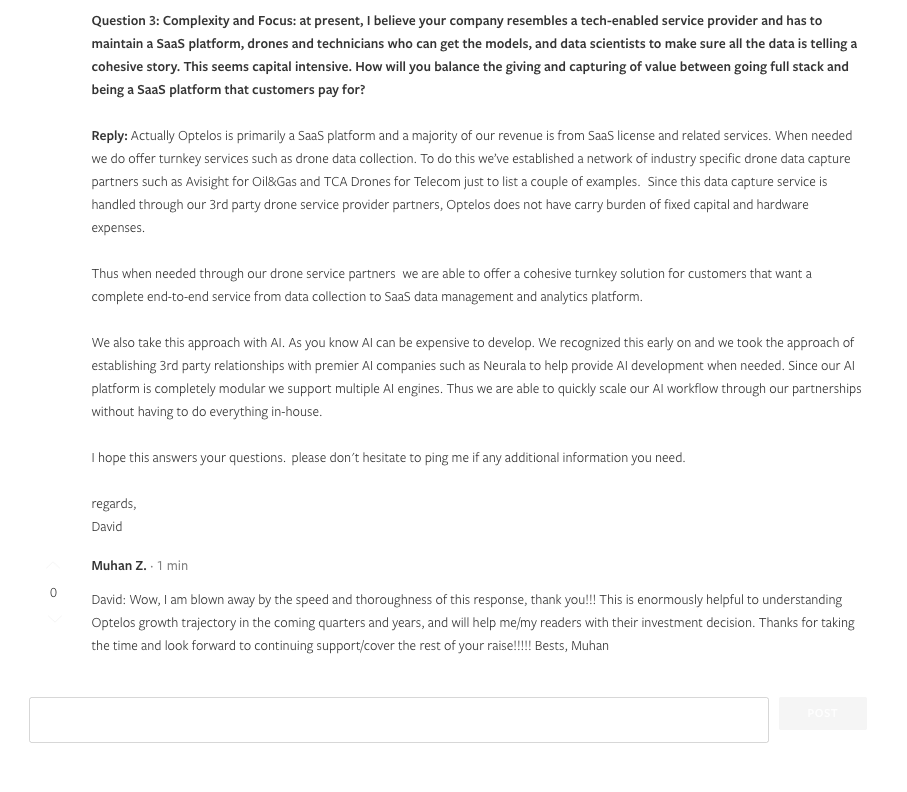 Updates
This is where I'll post updates about the company. This way all my notes from offering to post-offering updates will be on one page.
Review these deal memos every time the startup raises a new round
Test if original thesis still applies
Notice trends in how you think
---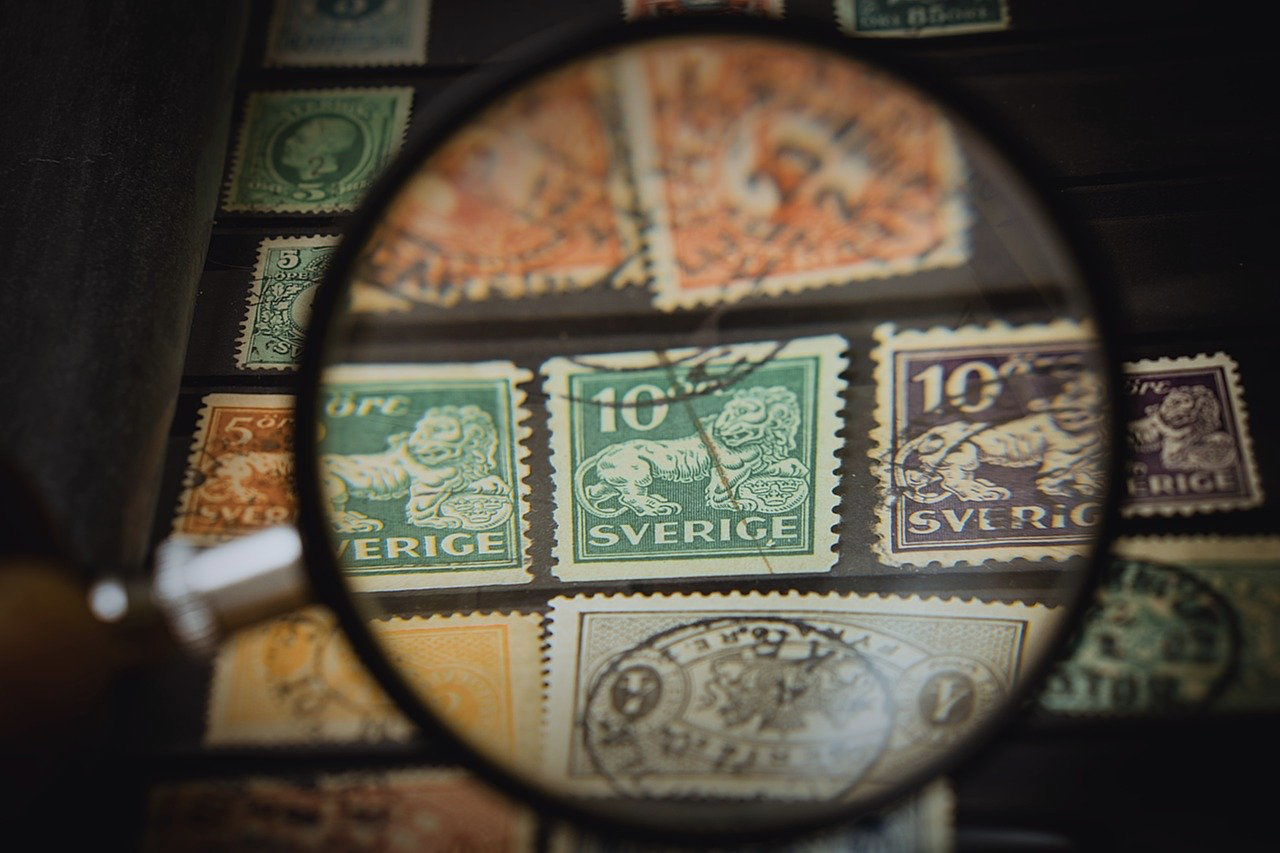 So, did I invest?
Click here
to find out.
Other thoughts, questions, comments, or concerns? Write me at mail@muhanzhang.com and let me know.