Deal Abstract
Husband and wife have built a patented beauty accessory for customers with textured hair. Inspiring story of perseverance and innovation in entrepreneurship, their next step is building the beachhead into a brand that owns beauty products across multiple beauty markets.
Financials (VRB)
|Question|Notes|
|---|---|---|
|1. Fundraising Target? |$1070000|
|2. Fundraised So Far?|$129776|
|3. Pre-Money Valuation?|$5000000|
|4. Previous Year's Annual Revenue |$1997203|
|5. Previous Year's Annual Burn |~$186478|
The 6 Calacanis Characteristics ("Sow Passion, Not easy mediocrity", or S2 P6 N18)
| Criteria | Yes/No |
| --- | --- |
| 1. A startup that is based in SV? | False: Marietta, GA |
| 2. Has at least 2 founders? | True: Two |
| 3. Has product in the market? | True: |
| 4. 6 months of continuous user growth or 6 months of revenue? | True: $829k in 2018 to $1.997m in 2019 |
| 5. Notable investors? | False: Bootstrapped, compelling narrative navigating predatory finance system in the US |
| 6. Post-funding, will have 18 months of runway? | True: Profitable! |
| Question | Score | Notes |
| --- | --- | --- |
| 1. Engineering? | 4 | I myself am not the market, but checks out that the product is significantly better |
| 2. Timing? | 3 | eCommerce, long tail, good time to solve deep pain points for more specific customer profiles |
| 3. Monopoly? | 2 | Not the market, only hearing of it now. That said, I feel like this concept isn't strange to me/has surfaced before. |
| 4. People? | 4 | Definitely right people. The only people asset you'd wish to take this to the next level are executives with CPG experience. |
| 5. Distribution? | 3 | eCommerce! Also interesting partnerships with SallyBeauty. |
| 6. Durability? | 3 | Patents are good, but not conclusive in defense. Company needs to build brand and develop more products. |
| 7. Secret? | 3 | Textured hair products/beauty products for traditionally underserved markets is going to be an enormous growth market in the coming years. |
What has to go right for the startup to return money on investment:
1. Grow revenue while maintaining good margins: at present, their profit margin is only 10%. To put it into perspective, at current valuation of $5m, every dollar invested if profits were divided into dividends would net $0.037, so a 3% return; 2. Expand into their customer class: PuffCuff needs to be the first product, with many more innovative solutions coming afterwards; 3. Identify competitive advantage against big beauty brands like L'Oreal, Amazon Prime Wardrobe, etc. and provide unique, non-substitutable products.
What the Risks Are
1. CPG: Not a space I generally invest in, but though eCommerce removes the barrier to entry, it makes competition more aggressive; 2. Costs of ongoing R&D: Not sure what the costs of developing new products is on a timeline; 3: CAC and LTV: How to build a profitable D2C relationship with consumer that allows for ongoing high margin relationship.
Bonus Muhan's Notes
Love hearing entrepreneurs be real with what it takes a business. It's an unforgiving world out there for many people.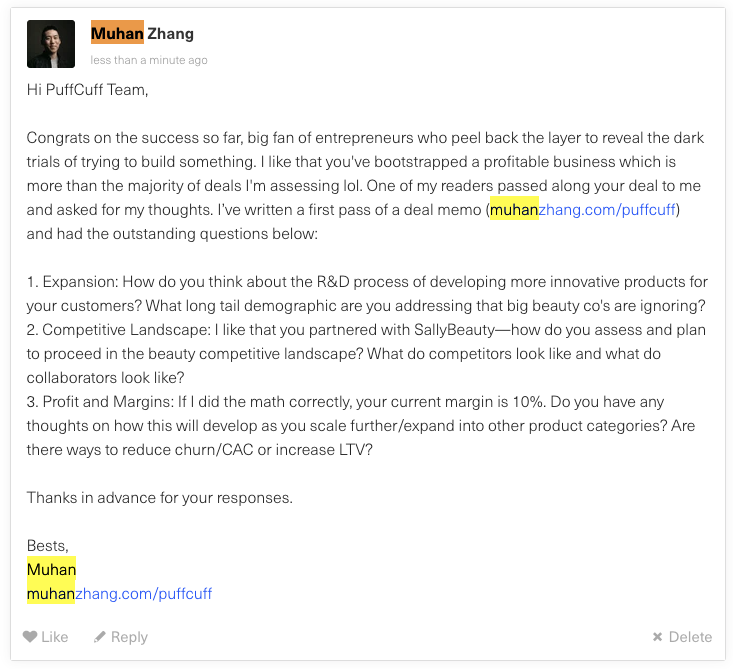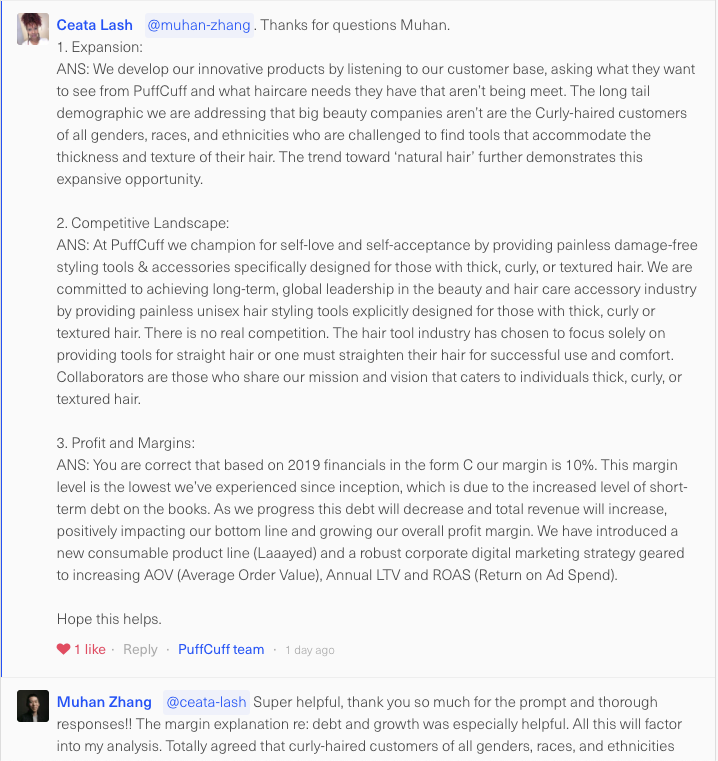 Updates
This is where I'll post updates about the company. This way all my notes from offering to post-offering updates will be on one page.
Review these deal memos every time the startup raises a new round
Test if original thesis still applies
Notice trends in how you think
---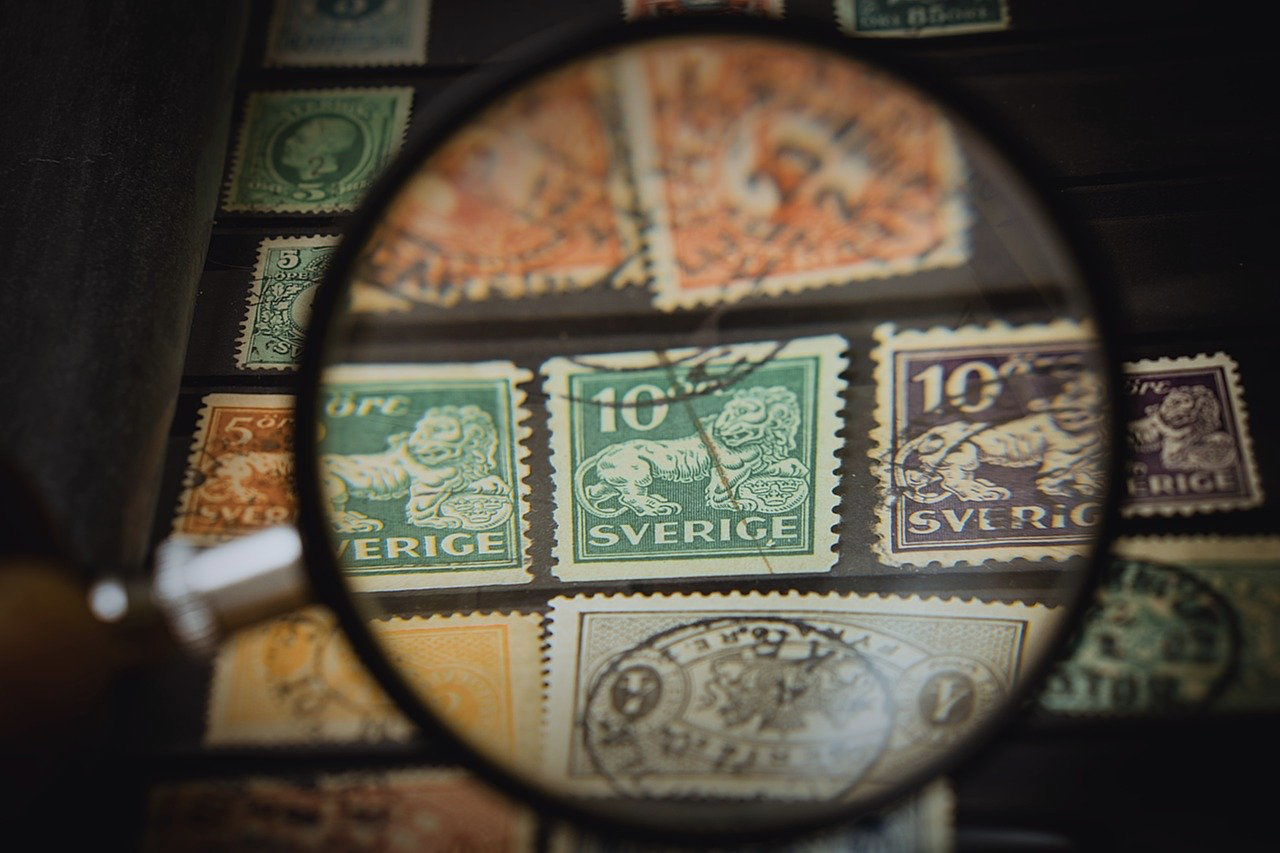 So, did I invest?
Click here
to find out.
Other thoughts, questions, comments, or concerns? Write me at mail@muhanzhang.com and let me know.